«
Back
Subasumstat (TAK-981)
SUMOylation Inhibitor
Overview1-2
- Subasumstat, an investigational and potentially first-in-class agent, is a small molecule that selectively and reversibly inhibits SUMO-activating enzyme, thereby blocking the SUMOylation of target proteins.
Mechanism of Action1-7
- Preclinical studies have shown that subasumstat is an innate immunity enhancer.
- Blocking the SUMOylation cascade stimulates IFN-dependent innate immune responses by restoring endogenous IFN production, resulting in activation of both innate and adaptive immune cells.
- In preclinical studies, subasumstat enhanced the activity of tumor-targeting anti–PD-1 antibodies that rely on activated innate or adaptive immune cells to elicit their antitumor effects.
- Intratumoral microdosing studies of subasumstat within human HNSCC tumors demonstrated that subasumstat-induced type I IFN upregulation leads to innate and adaptive immune cell activation.
- Induction of type I IFN response and activation of innate and adaptive immune responses were also demonstrated in early subasumstat clinical studies, including single-agent and pembrolizumab combination studies.
HNSCC, head and neck squamous cell carcinoma; IFN, interferon; PD-1, programmed cell death protein 1; SUMO, small ubiquitin-like modifier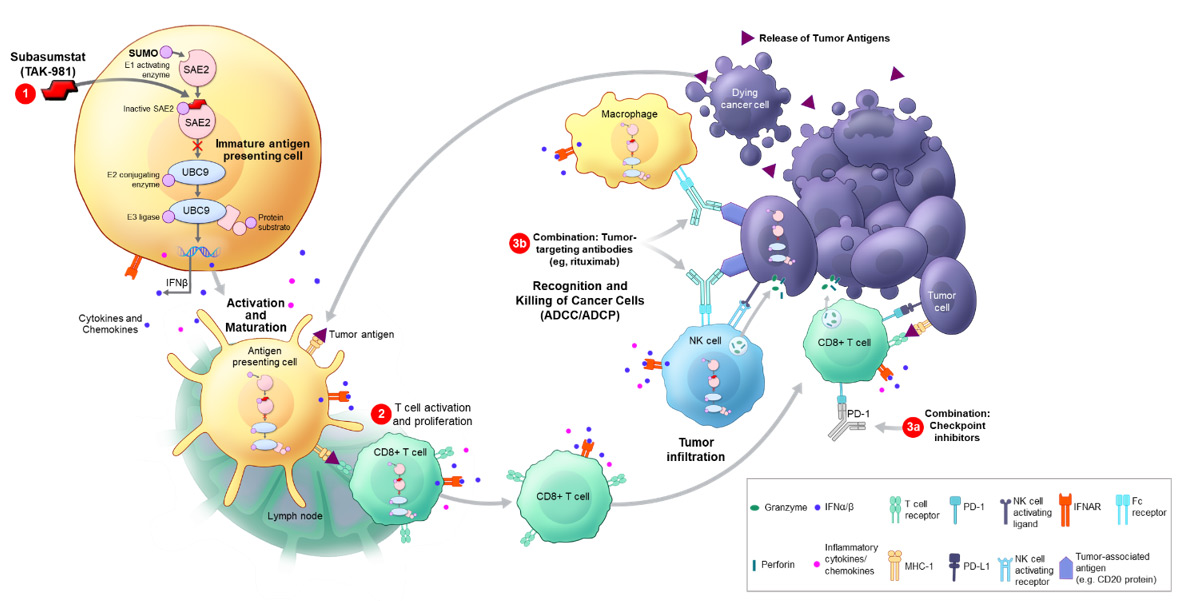 Subasumstat is an investigational therapy. The mechanism of action is based on preclinical data. Clinical efficacy and safety have not been determined.
ADCC, antibody-dependent cellular cytotoxicity; ADCP, antibody-dependent cellular phagocytosis; CD8, cluster of differentiation 8; Fc, Fragment crystallization; IFN, interferon; IFNAR, interferon receptor; MHC, major histocompatibility complex; NK, natural killer; PD-1, programmed cell death protein 1; PD-L1, programmed death-ligand 1; SAE, SUMO activating enzyme; SUMO; small ubiquitin-like modifier; UBC, ubiquitin-conjugating enzyme.
Clinical Trials
Study Name
A Phase 1b/2 Study of Subasumstat (TAK-981) Plus Pembrolizumab to Evaluate the Safety, Tolerability, and Antitumor Activity of the Combination in Patients With Select Advanced or Metastatic Solid Tumors
View on ClinicalTrials.gov
Study Name
A Phase 1b/2 Open-Label, Multicenter Study to Evaluate the Safety and Efficacy of Subasumstat (TAK-981) in Combination With Monoclonal Antibodies in Adult Patients With Relapsed and/or Refractory Multiple Myeloma
View on ClinicalTrials.gov
References
1. Nakamura A, Grossman S, Song K, et al. The SUMOylation inhibitor subasumstat potentiates rituximab activity by IFN1-dependent macrophage and NK cell stimulation. Blood. 2022;139(18):2770-2781. doi:10.1182/blood.2021014267
2. Lightcap ES, Yu P, Grossman S, et al. A small-molecule SUMOylation inhibitor activates antitumor immune responses and potentiates immune therapies in preclinical models. Sci Transl Med. 2021;13(611):eaba7791. doi:10.1126/scitranslmed.aba7791
3. Kumar S, Schoonderwoerd MJA, Kroonen JS, et al. Targeting pancreatic cancer by TAK-981: A SUMOylation inhibitor that activates the immune system and blocks cancer cell cycle progression in a preclinical model. Gut. 2022;71(11). Web Link
4. Houlton J, Clayburgh D, Li R, et al. A CIVO INTRATUMOR MICRODOSE PHASE 0 TRIAL OF SUBASUMSTAT (TAK-981) IN COMBINATION WITH CETUXIMAB OR AVELUMAB REVEALS TYPE 1 INTERFERON INDUCTION AND IMMUNE ACTIVATION IN HEAD AND NECK CANCER PATIENTS. Journal for ImmunoTherapy of Cancer. 2022;10:A596. Web Link
5. Dudek A, Juric D, Dowlati A, et al 476 First-in-human phase 1/2 study of the first-in-class SUMO-activating enzyme inhibitor TAK-981 in patients with advanced or metastatic solid tumors or relapsed/refractory lymphoma: phase 1 results. Journal for ImmunoTherapy of Cancer 2021;9. doi: 10.1136/jitc-2021-SITC2021.476
6. Saggu G, Stroopinsky D, Dudek AZ, et al. Subasumstat, a first-in-class inhibitor of SUMO-activating enzyme, demonstrates dose-dependent target engagement and SUMOylation inhibition, leading to rapid activation of innate and adaptive immune responses in the dose escalation portion of a phase 1/2 clinical study. Eur J Cancer. 2022;174:S125-S126. Web Link
7. Goel S, Ulahannan SV, Olszanski AJ, et al. A phase 1b, multicenter, dose-escalation study of subasumstat (TAK-981) in combination with pembrolizumab in patients (pts) with advanced solid tumors. Journal of Clinical Oncology. 2022;40(16). Web Link
8. Michaud HA, Eliaou JF, Lafont V, Bonnefoy N, Gros L. Tumor antigen-targeting monoclonal antibody-based immunotherapy: Orchestrating combined strategies for the development of long-term antitumor immunity. Oncoimmunology. 2014;3(9):e955684. Published 2014 Dec 13. doi:10.4161/21624011.2014.955684
Takeda Live Chat
Confirm Exit?
On exiting, all chat history will be cleared