«
Back
TAK-007
CD19 CAR-NK
Overview1-6
- TAK-007 is a cryopreserved CD19-targeted CAR-NK therapy
- Cord blood offers an allogeneic, off-the-shelf source of NK cells
- NK cells are highly cytotoxic effectors, killing their targets in a non-antigen specific manner
Mechanism of Action1-6
- Retrovirus technology is used to enhance NK cell activity with the following characteristics:
CD19 is added to increase CAR NK cell specificity for B cell malignancies
NK cell activation leads to the secretion of tumoricidal molecules such as granzyme and perforin
IL15 is added to prolong the viability of the NK cells in the recipient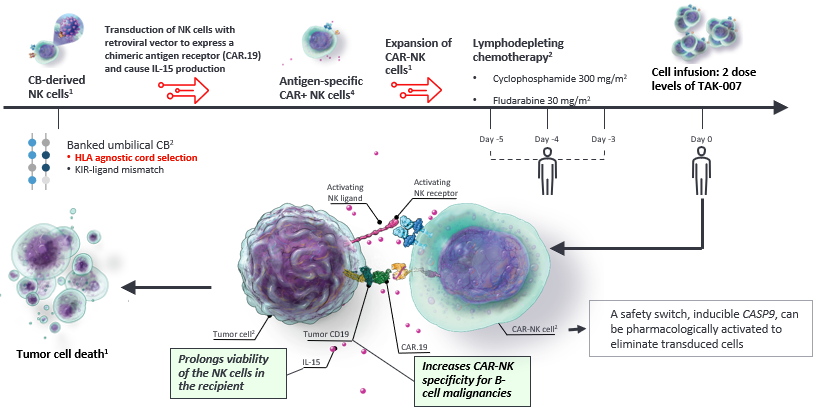 TAK-007 is an investigational therapy. Clinical efficacy and safety have not yet been established.
CAR, chimeric antigen receptor; CASP9, caspase-9; CB, cord blood; CD19, cluster of differentiation 19; HLA, human leukocyte antigens; IL-15, interleukin 15; KIR, killer immunoglobulin-like recptors; NK, natural killer.
Clinical Trials
Study Name
A Phase 2, Open-label, Multicenter Study of the Safety and Efficacy of TAK-007 in Adult Patients with Relapsed or Refractory B-cell Non-Hodgkin Lymphoma
View on ClinicalTrials.gov
References
1. Liu E, Marin D, Banerjee P, et al. Use of CAR-Transduced Natural Killer Cells in CD19-Positive Lymphoid Tumors. N Engl J Med. 2020;382(6):545-553. doi:10.1056/NEJMoa1910607
2. Liu E, Tong Y, Dotti G, et al. Cord blood NK cells engineered to express IL-15 and a CD19-targeted CAR show long-term persistence and potent antitumor activity. Leukemia. 2018;32(2):520-531. doi:10.1038/leu.2017.226
3. Takeda Oncology. Accessed April 2023.
4. Xie G, Dong H, Liang Y, Ham JD, Rizwan R, Chen J. CAR-NK cells: A promising cellular immunotherapy for cancer. EBioMedicine. 2020;59:102975. doi:10.1016/j.ebiom.2020.102975
5. Daher M, Rezvani K. Next generation natural killer cells for cancer immunotherapy: the promise of genetic engineering. Curr Opin Immunol. 2018;51:146-153. doi:10.1016/j.coi.2018.03.013
6. Takeda press release (Nov 21, 2019). Takeda Oncology: Innovative Cell Therapies and New Frontiers in Immuno-Oncology. [online] Available at Web link Accessed April 2023.
Disclaimers
*Under licensing agreement and in collaboration with MD Anderson Cancer Center.
Takeda Live Chat
Confirm Exit?
On exiting, all chat history will be cleared